Moret & Van der Wagt
Since we first met during our studies at the conservatory of music, we have shared the same passion and ideas about music and many other things.
We both have an open view on the world and want to create something new. When playing together, our focus is to share how we experience the music with the audience.
---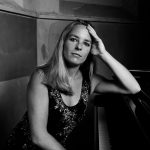 Ynke van der Wagt
The piano took hold of me since the first time I encountered one, and has never let go of me.
I have always had a fascination for creating things in many ways. From drawing, music making, a small wooden box, to a computer, or even a bike. Already during my studies, I found a partner in crime, Guido: restoring old pianos, repairing cars, and, most of all, making beautiful music.
For me, it is very important that every child gets a chance to familiarize itself with music, and that they are free to choose to play a musical instrument. At the municipal music school in Rotterdam (SKVR), I have the opportunity to engage myself towards this goal, and to help develop a new direction in music education. I'm convinced that music makes the world a better place, and I'm glad to be able to contribute.
Studies
Piano and chamber music with Alan Weiss (Leuven, Belgium)
Piano with Bart van der Roer and Barbara Grajewska (Tilburg and Rotterdam, The Netherlands)
---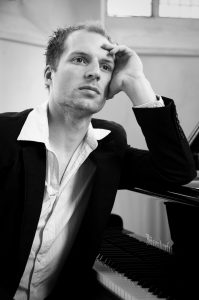 Guido Moret
As a young boy I constantly wanted to talk to people, tell them stories, explain ideas… And I wanted to discover new things. At school I was interested in everything, and this interest in many different subject has brought me a lot: the piano, but also swimming at high level, studies at the universities in Rotterdam and Montréal, a move to Paris…
In playing together with Ynke this all comes together: new experiences, and sharing these with, and conveying them to others.
Studies
Piano with Joop Albracht (Tilburg, The Netherlands)
Business studies at Rotterdam School of Management, The Netherlands and Haute Ecole de Commerce (HEC) in Montréal, Canada
---
Partners
In our programs we collaborate with several outstanding artists. All of them have been professionally trained, and add their own personality and innovation to their work. Their strong personalities suit us well. The interaction we with one another provides us with mutual inspiration and gives every program a unique character.
---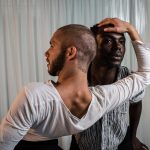 Alexandre May and Paolo Yao Kouadio
Alexandre and Paolo both are expressive dancers, who express beautifully in their dancing the interaction and attraction with the music. Professionally trained and comfortable with different styles, together they follow the movement of the music.
---
With the intense expression and timing in his beautiful poetic interpretation of the poems, Walther adds a lot to the music. He is trained and works as a singer, and this enables him to use his voice in a musical way as a narrator.
---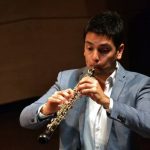 Ian Barillas McEntee
Ian grew up in a bilingual Household in Chicago, studied in Montréal and Paris, and now lives in Rotterdam. He is fluent in four languages and plays multiple musical instruments. He is specialized in Oboe and English horn. For him, a clear link between language and music exists: both are a means of communication that enables people to understand each other.
---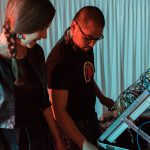 Chris & Willemijn Ketting
With their synthesizers, Chris and Willemijn are able to connect the different elements fo the performance together. They both have a background as a classical guitar duo, and are now focusing on live electronic music. In doing so, they use several analogue techniques and show real craftsmanship.
---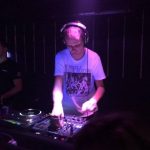 Mark van 't Hoff
As a DJ Mark is open to innovation, en succeeds in integrating elements into his productions that are unknown or at least unusual for most DJs: different meters and schedules, and crescendo/diminuendo and accelerando/ritenuto for instance. Mark aims to provide a total experience, in which he also experiments with the translation from sounds into light.